Wudy's story
Beyond Words to Describe our Experience
(translated by Google Translate)
Married for seven years, long-awaited first-time mother when I thought I was happiest
Bad news
When my daughter was born, doctors and nurses were very nervous
Surrounded by the bed, immediately picked up the daughter and referred her to the Infant Intensive Care Unit
After experiencing the pain of childbirth
The doctor said that the daughter has a genetic mutation and suffers from a rare skin disease - epidermolytic (EB) blister
The epidermis does not adhere well to the skin as protection
On the contrary, it will form blisters or even lose the epidermis due to friction, increasing the risk of infection
There is no cure yet People who have never heard of this disease, all the information and information we see online, scary photos and desperate news
In the second month of her daughter's birth, she was infected with an infection
The doctors and nurses asked us to prepare ourselves mentally
Seeing my daughter suffer and doing nothing
We were just terrified
I couldn't bear to say to my daughter:
"If you're in too much pain, too hard, don't hold on
Mom and Dad love you, let's meet in heaven"
The last strong daughter survived
the road is bumpy
One year old, baptism, full moon, 100th day, half birthday are all spent in intensive care unit
Finally able to go home after nine months in hospital
As the doctor said when she was discharged from the hospital, "Linlin is a nine-month miracle"
It is the hard work of doctors, parents, and sisters
The disease afflicts parents the most
In addition to the care that the average mother has to deal with
She also spends two or three hours a day treating her large and small wounds ruthlessly in the pitiful cries of her daughter.
When going out, passersby uncontrollably stare at the discriminatory and questioning eyes from the wound on her daughter's face or body
There are also countless follow-up consultations, and they go to the hospital dozens of times a month.
A family of three struggles to survive and accept reality every day
I still experience a trip to hell every day
Thanks to all the patients' parents and colleagues, especially Isabel and Andrew
Thanks also to the other half
Ups and downs in suffering
I help you when you fall; I support you when I fall
The growth of experience and love has enriched our life resilience
Unwilling but no regrets to walk such a meaningful journey
Maybe God just gave us years to prepare to be good parents
Maybe God let you come to our family to witness and bless more people
Maybe God wants to use the gifts of parents to bless this patient group
Maybe you are an extraordinary life fighter
Sometime you just need to be strong
Do your Best and wait
When you look back
You know it is a Miracle with GOD Love
One step for a time
My Little Warrior
We Love you more than everything
Love to fight with you and stand by you all along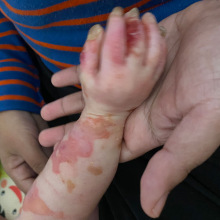 Wudy's story
Beyond Words to Describe our Experience

(translated by Google Translate)
Married for seven years, long-awaited first-time mother when I thought I was happiest...
read more